About Howard
Hi, I'm Howard Lo
I run a small business, write software and participate in activities that promotes education especially in STEM. These activities are what enriches my life and brings me joy and I hope to connect with more people and organizations that share my interest.
I was born in Hong Kong as the sixth child in our family and was the first to be born outside of China when Hong Kong was still a British Colony. My parents were from Southern China and fled to Hong Kong during Mao's cultural revolution. We then immigrated to the US, lived in Southern California for a stint and then settled in Chicago.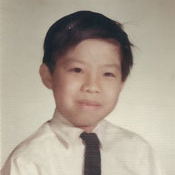 In Chicago, I attended St. Therese grade school in Chicago's Chinatown and then Lane Technical High School. At Lane, I develop a passion for making things and was intrigued with programming and interestingly photography (I think it was the magic of taking a picture and seeing it develop in the lab). We didn't have computers in HS but I tried my hand at a programmable calculator. Eventually I became quite adept at carpentry, metal foundry, machining and electrical things or what we would call a "Maker" today. To make a casting for a personal project, I had to make a what was probably the largest casting flask ever existed at Lane. It was large enough that the Illinois Railway Museum ask us to cast a replica of a fire door for one of their engines.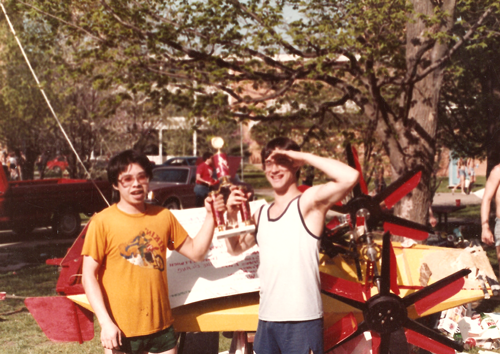 Cardboard Boat Regatta 1st Place
I then attended Southern Illinois University and earned Bachelors and Masters of Science degrees in Engineering Mechanics and Material. Although my Master's thesis was Stress Concentration in Composite Material I also developed an interest for computational methods for engineering analysis and began a lifelong passion for all things computers. I also enjoyed competition and I believe our team was the first engineering school entry to win first place in the SIU Design school Cardboard Boat Regatta competition.
After graduation, I took a position at General Dynamics Fort Worth division in the Advanced Methods Group where I had the opportunity to work with great people to develop numerical techniques for aircraft analysis using super computers such as Cray and Silicon Graphics (SGI). General Dynamics awarded me an Extraordinary Achievement Award for my contributions to a suite of aircraft analysis applications.
My next career was a Systems Engineer, a sales support position, at SGI Dallas where I was part of the sales team to introduce SGI technologies to businesses (e.g. Super Conducting Super Collider, E-Systems, Exxon) in Texas, Oklahoma and Louisiana region. Then I went to SGI corporate in Silicon Valley to be part of the newly formed Global Accounts Team. An accomplishment was the Webucator, a first of it's kind web application for product training which was developed in record time and proved vital in saving SGI many millions of dollars in a major product launch. Our management team awarded me "The Claw" award (it was literally a ten inch lobster claw made into a trophy) for tenaciously working on the Webucator under a short deadline (we had less than several months to pull this off). Another accomplishment was an application for streamlining and managing the workflow of the Executive Briefing Center (EBC) and again the first of it's kind.

After leaving SGI, there was a request from SGI to enhance the EBC application and thus born the VisitView corporation. In short time, SGI, AT&T, Sun Microsystem (now part of Oracle), NetApp, Xilinx, Symantec, NextTel (absorbed by Sprint), TIBCO, Polycom, Autodesk and Citrix were among our customers.
Recently, I took an assignment as a Technical Fellow for Delta Sigma Company (DSC). Among my work at DSC: Proof of concept Hololens app for advanced manufacturing assembly, an architectural roadmap for the next generation ProjectionWorks software system and the Remote Host Service platform for network management of ProjectionWorks software and devices.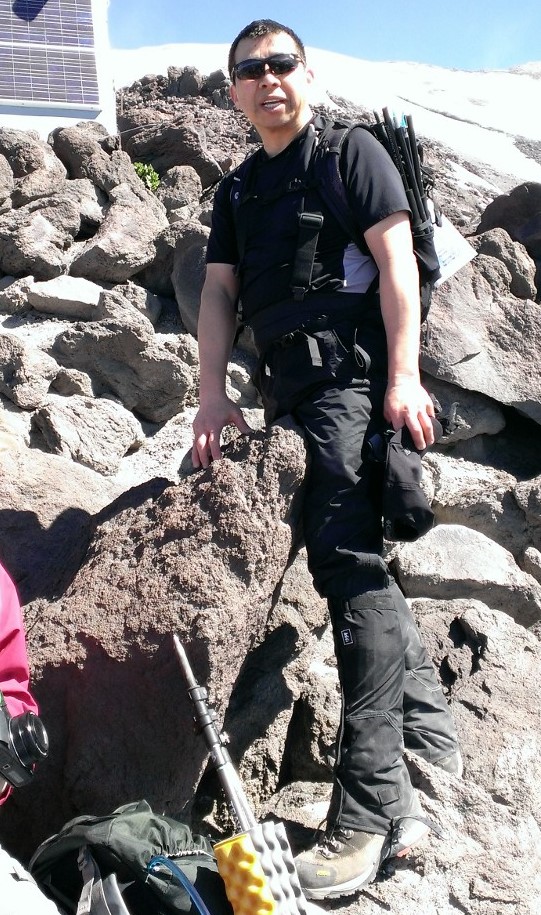 Mount St. Helens
In non-work life, I am on the boards of the Southern Illinois University Foundation, the SIU College of Engineering Industrial Advisory Board, the SIU Department of Civil and Environmental Engineering Professional Advisory Board, and the Indiana Purdue Fort Wayne Engineering Technology and Computer Science Industrial Advisory Board. I also enjoy engaging with young people with mentoring and teaching and was a TEALS Volunteer at Marietta High School, Robotics coach at the Noble High School in Chicago and CoderDojo Chi mentor. In 2006 I was honored with the Distinguished Alumni award and gave the SIU Engineering and Science school commencement speech.
I love reading and understanding about worldly things, especially about science, technology, economics, finance and human behavior. I love the outdoors: hiking and biking when I can and every year participate in the Seattle to Portland ride. I also attempt to be a photographer and amateur chef ;-)
---